HSE clamps down on inspection and maintenance dodgers
30 May 2013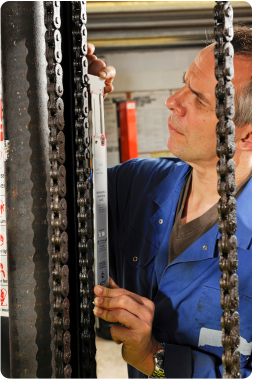 Following news of the HSE's latest prosecution against an employer operating a fork lift truck with infringements under LOLER and PUWER, an industry expert has urged users to think twice before delaying inspections and maintenance.
Hearing news of the HSE's second successful prosecution this year, Richard Hayes, Chairman of CFTS, the delivery body for the UK's national standard for the thorough inspection of fork trucks said: "Ignoring this legal and moral duty is not a good policy for your industrial equipment and, furthermore, it's not legal – as a number of fork lift truck users have found to their cost this year."
In the most recent case, involving an Essex-based steel fabrication firm, HSE investigators found that the company's fork lift had not had a Thorough Examination for more than 12 months. Furthermore, it had been kept in continuous use – despite showing obvious signs of disrepair.
The HSE's report revealed that no fewer than 18 of the 24 key items examined on the truck required urgent repair. Defects included: worn-out tyres, loose counterweight and non-functioning lamps and beacons.
CFTS, which administers the fork lift truck industry's own national Thorough Examination accreditation scheme, points out that not all inspections offered to fork lift users would have picked up on these issues.
"Due to the nature of their design, fork lift trucks are covered by two separate pieces of legislation – each of which has its own testing criteria," explains Richard.
"The parts comprising a truck's lifting mechanism are covered separately by the Lifting Operations and Lifting Equipment Regulations (LOLER) 98, which requires a Thorough Examination of all lifting apparatus at least once every 12 months.
"Under the Provision of Work Equipment Regulations (PUWER) 98, employers must ensure that safety-critical parts such as those cited by the HSE report undergo regular, recorded safety inspections.
"A LOLER-only inspection would have picked up defects in lifting components such as forks and chains but would not have checked vital aspects covered by PUWER – such as brakes, steering and safety equipment," explained Richard, "and the majority of companies are still carrying out LOLER-only inspections.
"To be certain of full legal compliance, we recommend CFTS-accredited Thorough Examinations – which have been developed by the fork lift industry itself with the support of HSE… to meet the Thorough Examination demands of LOLER and the Safety Inspection requirements of PUWER."
The company was fined £3,000 and ordered to pay £3,238 in costs for putting its workers at risk through breaches of LOLER 1998 and PUWER 1998.
"Sadly, this is not an isolated case," said Richard. "Earlier this year a slate and stone supplier was fined for breaching PUWER. Once again, courts heard that the company's practice had been to repair only in response to breakdowns."
HSE investigators reported that the truck had not been properly maintained and that the two sets of bearings holding the forks in line had collapsed.
"Routine maintenance is essential to maximising your truck's lifespan and efficiency, and it can help to highlight potentially dangerous faults. However, users should be clear that a comprehensive Thorough Examination – which checks the truck in accordance to LOLER and PUWER – is something they need
in addition
to maintenance. Just as a car needs an MOT test
and
a routine service, you must have both."