Good practice spreading far and wide
22 July 2015
CFTS Thorough Examination accreditation reaches Jersey
Fork lift truck users in Jersey can now benefit from assured standards in Thorough Examination as 4fleet,part of 4group, has become the first Channel Islands company to gain CFTS accreditation.
"Our network of accredited members is growing throughout the UK and Ireland, and we're delighted to be spreading in yet another direction," says Mike Mathias, Chairman of CFTS (Consolidated Fork Truck Services).
He adds: "The regulations governing Thorough Examination on Jersey have different names but essentially they cover much the same as ours in the UK – and the arguments in favour of CFTS Thorough Examination are just as strong."
Why choose CFTS?
"In a nutshell, without the CFTS procedure and code of practice there is a real risk of Thorough Examinations failing to comply with the law – allowing safety defects to go unnoticed and putting the fork lift user at risk of prosecution.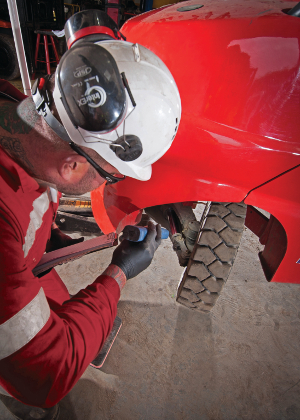 "A key problem is that many inspections focus on the lifting mechanisms and pay too little attention to other parts of the truck. In addition, the legal requirements, which apply to a wide range of other machinery, are open to individual interpretation by different inspectors.
"In CFTS Thorough Examination we have a comprehensive procedure, specific to fork lift trucks, developed by those who understand them best – the Fork Lift Truck Association and the British Industrial Truck Association. Customers choosing CFTS Thorough Examinations can be sure of the same high standards, wherever they are."
The law in Jersey
Those familiar with the UK legislation and Health and Safety Executive (HSE) guidance would find Jersey's equivalents very similar. There, the Health and Safety Inspectorate (HSI) has a code of practice and guidance document entitled 'The Safe Use of Rider-operated Lift Trucks' which helps in meeting the requirements of the Health and Safety at Work (Jersey) Law, 1989.
In several places, it refers to the Chains, Ropes and Lifting Gear (Jersey) Regulations, 1980, similar to the UK's LOLER 98 requirements, and specifies the need for 'thorough examination by a competent person'.
Interestingly, where chains form part of the lifting equipment, Jersey's regulations stipulate that they be thoroughly examined every six months.
Mike explains: "On the mainland, chains must be checked at least once every 12 months by law. But more challenging applications will require checks more frequently – even once every three months."
Increased confidence for Jersey customers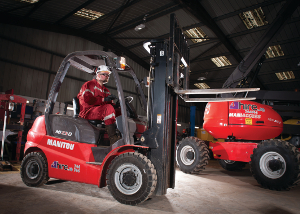 For Jersey-based 4group, which provides a wide range of materials handling, transport, construction, electrical, power generation and other equipment for hire, sale or as managed packages, CFTS accreditation is seen as another important way of ensuring customer confidence, as Managing Director Nigel Blandin explains:
"We are working towards Centre of Excellence Status with Hire Association Europe and we are always looking for opportunities to further support our customers.
"When it comes to Thorough Examination, many people don't realise that both the fork lift hirer and the hire company have legal responsibilities – or that there is great variation in how different people examine trucks.
"CFTS Thorough Examinations allow us to take away any such worries and provide customers with the information and documentation they need. 4hire is delighted to have achieved CFTS accreditation, which demonstrates our commitment to meeting the necessary high standards.
"UK businesses have long recognised and enjoyed the extra reassurance of the CFTS mark and we want nothing less for our customers in Jersey."
For further information on 4hire visit
www.4groupci.com
.