CFTS partners: BITA and the FLTA
Consolidated Fork Truck Services is a joint venture between the industry's major trade associations, in consultation with the Health & Safety Executive.
Because of the urgent need for clarity over Thorough Examination standards, the fork lift truck industry's major trade associations joined forces to create CFTS. As a result, the scheme is backed by the UK's leading independent voices on fork lift truck safety, operation and best practice: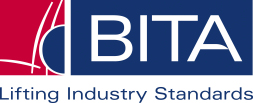 The British Industrial Truck Association, BITA, is a substantial and dynamic trade association representing a membership of 73 forklift truck manufacturers, suppliers, service providers and media operating in the UK.

The Fork Lift Truck Association, or FLTA, is the largest, most representative body of its kind in Europe. It exists to raise standards in the materials handling industry, enhancing safety and productivity.

CFTS was developed with the support and close collaboration of the Health and Safety Executive, to ensure its standards and procedures fully meet the requirements of UK health and safety regulations for lifting equipment and workplace transport… genuinely improving safety at work.

Both BITA and the FLTA are cited in the HSE's own general guidance document on Thorough Examination for Lifting Equipment (download the PDF here).

See why BITA and the FLTA created the CFTS industry standard, here.